Decking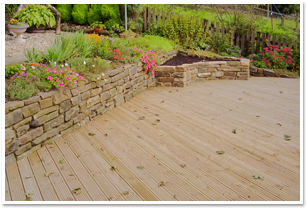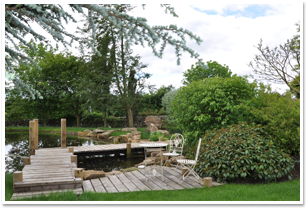 This is something we are not asked to do very often, probably because of the climate in Teesdale! But it is extremely versatile, with designs that can be tailor made to suit all sizes of gardens. Interesting ways of using decking could be around a tree or as a viewing platform.
Decking is simply a wooden platform that can be built at ground level or on multi levels. The platform is composed of a wooden supporting framework, with a timber surface made from hard or soft wood decking board. These have been pressure treated to protect the timber and have a life expectancy of at least fifteen years. The board may be laid straight or at an angle. To break up the area, planters can be built in stone or wood as shown in picture top left.
Decking can be used around a tree and may include some seating.
Children's play area which could incorporate storage for outside toys.
Viewing area which may be elevated using decking to let you see a particular view.
Walkway over very wet or boggy area of garden.
Jetty over a pond, this gives an added dimension to the pond and allows access out over the water as shown in picture top right.
Click here to see more images of Decking