Drives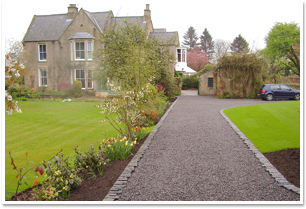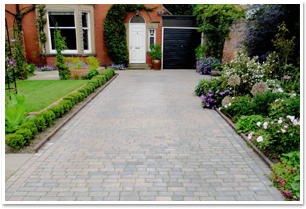 Drives often form the first impression and can create the perfect approach to your home. Careful consideration of the use of the drive needs to be given and if the space is available, plenty of room for multiple cars and manoeuvring needs to be allowed.
Paving a drive is a permanent finish which is low maintenance if correctly laid and carefully pointed by hand with a wet mix of mortar.
Whin or limestone chippings are extremely hard wearing, ideal for drives on the flat or slopes. As they are angular they knit together better than gravel and compact well to make a traditional looking drive as shown in picture top left. They are also good for security as you can hear when someone or something is on the drive.
Gravel looks pretty and traditional, but it will move around more than whin or limestone chippings as it is more rounded in shape. Again, as with chippings the use of gravel can improve security.
Man made block paving or stone setts come in a vast array of colours and materials as shown in picture top right, they can match any type of house but can be fairly high maintenance if moss or weeds are allowed to grow.
Tarmac can make a drive look a bit like a car park and slightly boring, but it is easily maintained.
Edging a drive with setts to contain whatever material is used, can give a more interesting finish and will allow easier maintenance of grass if it is adjacent to the drive.
Click here to see more images of Drives