Raised Beds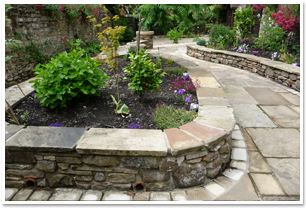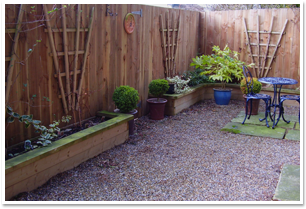 Raised beds are becoming extremely popular, they can be used for planting, vegetable beds and children's planting areas, etc. They are very good if you need to improve the soil, or need a certain type of soil to grow specific plants.
Stone raised beds look very traditional as shown in picture top left. They are more expensive to build but are a permanent addition to your garden, and with age will look better.
Timber raised beds as shown in picturetop rightare quicker and cheaper to build, the timber is tanalised and has a life expectancy of at least fifteen years, but it will not last as long as stone.
Sleepers can give a more robust feel to your raised bed. New sleepers are great for raised beds and they can be built to a height so that you can use them as extra seating. Old sleepers look good, are interesting to look at but not suitable for sitting on as they often can have patches of exposed tar etc.
Raised beds give the gardener easier access to the soil, which can be useful for the disabled, children, older people and even those of us who don't want to bend so far!
Click here to see more images of Raised Beds