Steps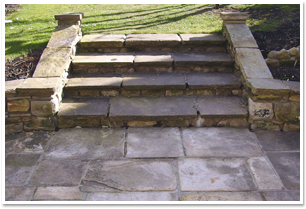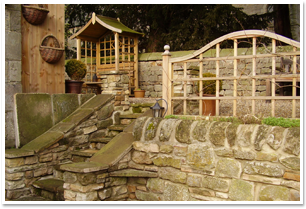 Steps are possibly the most important construction element in any garden, and can be a beautiful focal point as shown in picture top left. Steps can act as an inviting conduit, and a way of negotiating slopes and changes in levels quickly and safely.
Wherever you have steps, walls will usually be built too as shown in picture top right. The soil on each side will need to be retained to stop the bank from collapsing. Risers and treads need to be built very carefully to make good use of the space available, and to ensure they are safe to use. Badly designed steps can be extremely dangerous.
Steps can be built from stone, paving, timber, and sleepers. By using railway sleepers as a riser, infilled with gravel behind for treads, this will help keep material and labour costs down.
Plants can also help soften steps by allowing them to spill over the edges of steps and retaining walls. To increase the use of steps and retaining walls they can be used as seating areas, just add a few cushions!
Click here to see more images of Steps